TACOMA BEER WEEK AUGUST 11-20TH 2023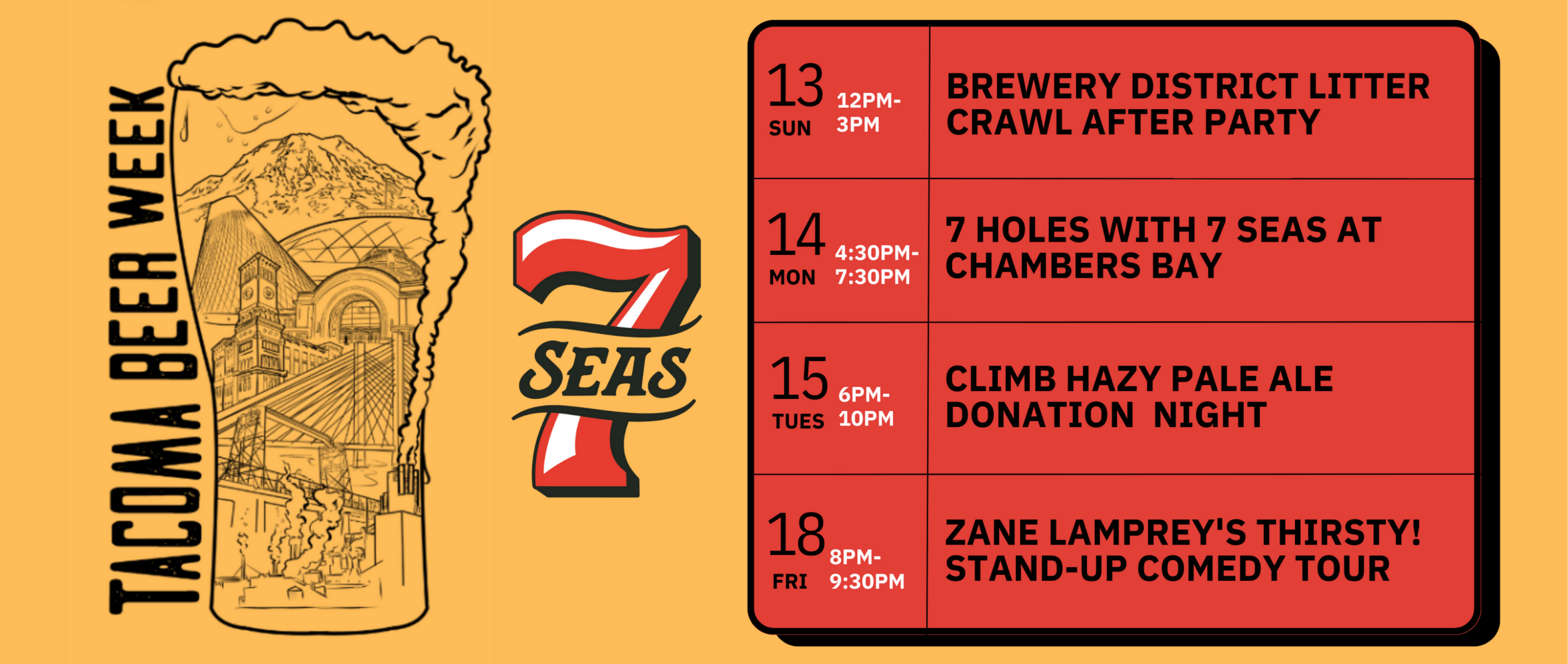 7 Seas Brewing Tacoma Beer Week Events:
Sunday 8.13 Brewery District Litter Crawl. Tacoma Beer Week and Tacoma Trash Pandas are teaming up for a family friendly clean up around the Brewery District. Meet at our neighbors, Dancing Goats Coffee/ Camp Colvos at 10am. Equipment will be provided. Once you and your group is done around noon, head up to the Tacoma taproom for the after party and receive 50% off your pints until 3pm. Please present your sticker to receive discount.
Monday 8.14 7 Holes with 7 Seas Brewing at Chambers Bay. Space is limited. 4:30 pm- 7:30 pm with beer tasting and 15% off Chamber Bay Grill.
Tuesday 8.15 7 Seas Brewing and cliMB (Create Love Inspire Mary Bridge) have partnered to create a Hazy Pale Ale in support of the Mary Bridge Children's Hospital. From 6pm to close, our Tacoma taproom will be having a launch party and donating $1 of every cliMB Hazy Pale Ale sold.
Friday 8.18 8pm Tacoma 7 Seas will be hosting comedian, Zane Lamprey's THIRSTY! Stand-Up Comedy Tour. Zane Lamprey is known for being the guy who gets paid to travel around the world and drink, which has led him to finding himself in many awkward and interesting situations. Come listen to his fantastic stories from his adventures and misadventures! 21+. Tickets at zanelamprey.com
For more info and to see all of the great events around the city, visit tacomabeerweek.com